This page was last updated on: September 22, 2014
PALISADES APPALOOSAS

Mitch and Lisa Estridge

1601 Bowman's Bottom Road

Lancaster, Kentucky 40444

(859)-338-7955



Web site management and photography

by Lisa Estridge

Please do not borrow or reproduce our photos without permission.

This page was last updated: September 22, 2014
Watch the 2013 foal crop video

OR...Watch a video of the 2012 foal crop! 



Palisades Appaloosas for Sale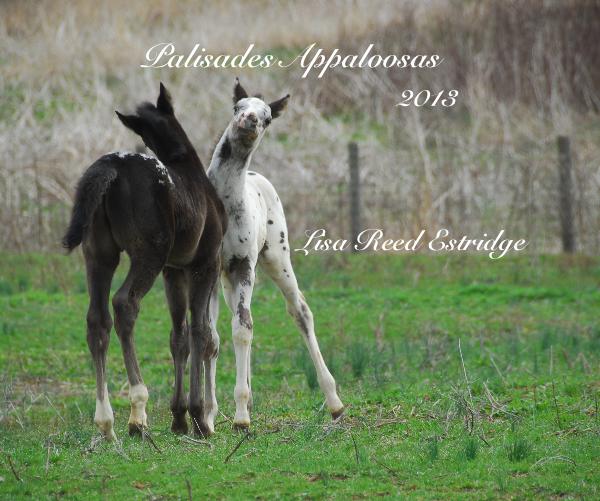 A photo book for sale at Blurb!
Appaloosa Weanlings, yearlings and Mares for sale

Perfect Pearls, "Pearl"

Perfect Dream X CMS Million Dollar Baby

       Black bay fewspot filly for sale

                Born July 29th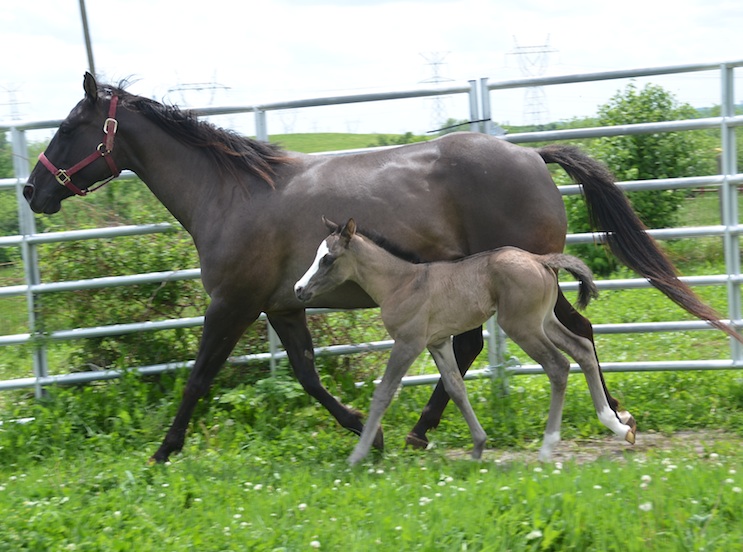 2007 Grulla AQHA mare, Homozygous for black

    bred to Nuggets Super Shado for a may 2015 foal.

Moon is a well balanced, stout build grulla quarter horse mare.  She has been ridden

as a four year old, and has been a broodmare since coming to Palisades Appaloosas.  She is 7 years old at this time and hopefully in foal to Zeke again for another Sophie (perhaps with a blanket?)  I'd like to cut my number of broodmares down a little, but Moon is one of those mares that I won't mind if I don't sell.   She's easy to get along with ,

has gotten in foal easily , first cycle each time. She is a good mom, just not a super color producer so far.

Moon is  Reserved for Cassidy at Shining C Grulla Horses.

More pictures are offered on her personal page as well as photos of her colts.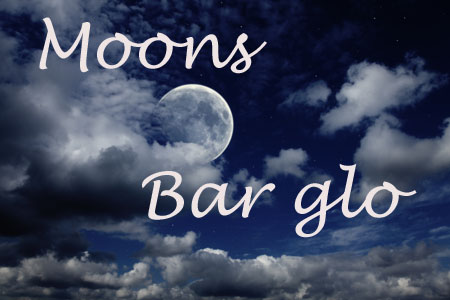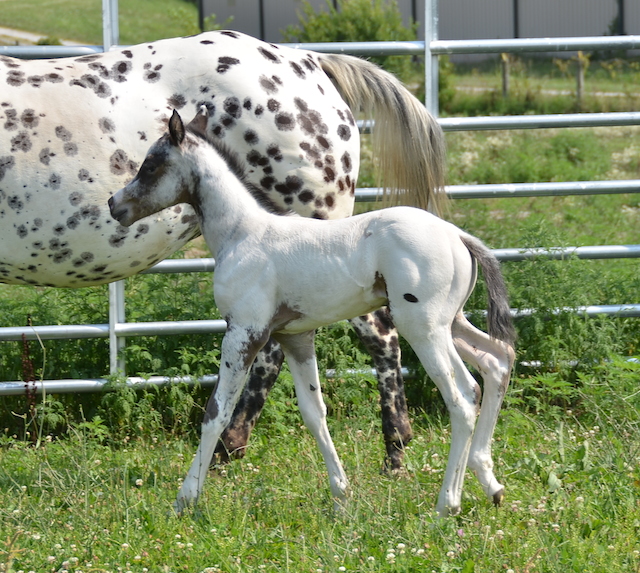 Blue Shado Maximus, Max

Skips Jazzy Blue X Nuggets Super Shado

Black Appaloosa colt, Foals March l2, 2014

Max is the stockiest colt of the year with a gorgeous head and intelligent mind to go with his muscle. His sire is l5 hands and his dam is l5.3.. our tallest mare.  I'm going to guess max is a l5 hander and very stout, but he could grow taller.. time will tell.  Max is non characterstic

and would be a perfect stallion prospect for a group of fewspot mares.  I wish I had time and energy to start another small breeding herd of that type.  Our new filly, Pearl, is unrelated and would be a super cross with Max.

Max would also make a great riding gelding, most likely western type .  His video was made at 4 months old and you can see he moves nicely.  Max was reserved at birth, but his buyers did not complete his purchase at weaning.  He is currently weaned and will ready for a new home at the end of August.  He is sun bleached brown, but with a grulla dam and homozygous black sire, he will be black in time.

Max is offered for sale at $1200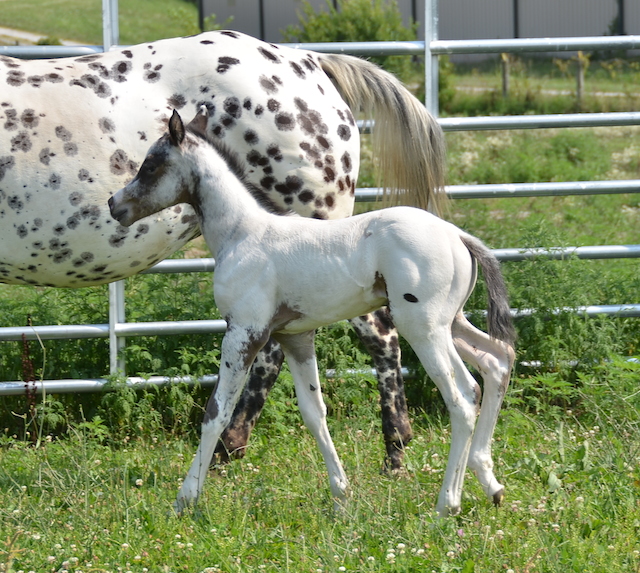 Perfect Pearls , "Pearl"

Black Bay fewspot filly , Homozygous for black and for the LP gene.   EE Aa LP/LP

Perfect Dream X CMS Million Dollar Baby     foaled July 29th

Pearl's pretty head and refinement catches your eye first. She is balanced and well muscled.

She has a lot of potential as a broodmare with her homozygous coat pattern and also two black genes. Breed her to a solid or non appaloosa sire and you have a good chance of producing her dam's leopard pattern.  Pearl's sire is in Canada at Westview Appaloosas.  He is a bay roan with a blanket and spots and test n/n for the five panel genetic test. Pearl would also make a nice riding mare. She should finish at about l4.3  to l5 hands     

Asking $2,000 for Pearl