This page was last updated on: November 13, 2016
PALISADES APPALOOSAS

Mitch and Lisa Estridge

1601 Bowman's Bottom Road

Lancaster, Kentucky 40444

(859)-338-7955



Web site management and photography

by Lisa Estridge

Please do not borrow or reproduce our photos without permission.

This page was last updated: November 13, 2016


Palisades Appaloosas for Sale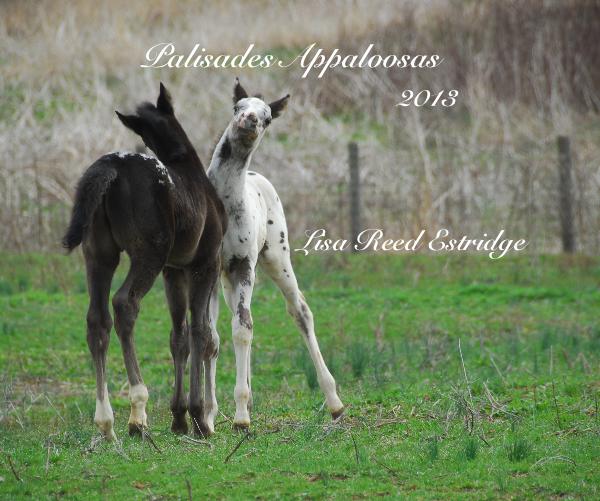 A photo book for sale at Blurb!
Appaloosa Weanlings, yearlings and Mares for sale

Pearl totally enjoyed her first snow experience!!

All of our 2016 foals have been sold.

Please come back in March 2017 to see our next foals crop arriving!

Crystaline Lace

  bay blanketed filly  Rewardachic X Nuggets Super Shado

Offered for sale at $1800  Sold!

This little bay filly is an athlete and a beauty.  She is both a nice halter and performance prospect with a royal pedigree of hall of fame APHC and AQHA bloodlines. Her dam is one of my best brodmares, and I would expect no less of her filly. Lace should finish at l4.3 to l5 hands.    She is agile, quick and smart and balanced.  Check out her pedigree and video.   She is just weaned september l9th and should be ready for her new home about October l9th.  we will be working together on leading, loading,  manners, and hoof care until then.

Heart of Charm   "Charm"

  Hartes Sizzler Jo X Nuggets Super Shado

Black appaloosa filly,  four white stockings and a blaze  APHC registered

Athletic, intelligent, sensitive, beautiful   Charm is weaned, registered and vaccinated,  and doing nicely with her lessons on leading, loading and hoof work and a little flag. Check out her lesson video below. She gets a long with the other foals well and bonds closely to her handler.  She has a sporty build and moves nicely.  She should be about l4.3 to l5 hands. She comes from two leopard parents, thus she has a 75% chance of carrying PATN1 (leopard pattern). Test results soon!  She would be a great cross for a fewspot or snowcap stallion.  Offered for sale at $1800   CHARM is SOLD!

PA Hollywood Rock   CR Hollywood Peanut X Nuggets Super Shado

             Black bay near leopard colt     

      foaled June 8th

Rocky is a playful and curious character.  He's got all the color you could want, and plenty of good blood behind him in his pedigree. He's sun bleached in his pictures, but should be a very dark bay as he was when born.  At 3 l/2 months he is filling out nicely like his dam.   He loves to run and play,  and flops down for a nap in the grass any old time.  Holly is proving to be a good mom, and watches over him well.  He is the first foal she has had for us, though she came to us an experienced broodmare and riding mare. Offered for sale at $2400

ROCKY IS SOLD!

x        t.Here's a video of what I  teach our foals before they leave the farm.