This page was last updated on: May 23, 2015
PALISADES APPALOOSAS

Mitch and Lisa Estridge

1601 Bowman's Bottom Road

Lancaster, Kentucky 40444

(859)-338-7955



Web site management and photography

by Lisa Estridge

Please do not borrow or reproduce our photos without permission.

This page was last updated: May 23, 2015
Watch the 2013 foal crop video

OR...Watch a video of the 2012 foal crop! 



Palisades Appaloosas for Sale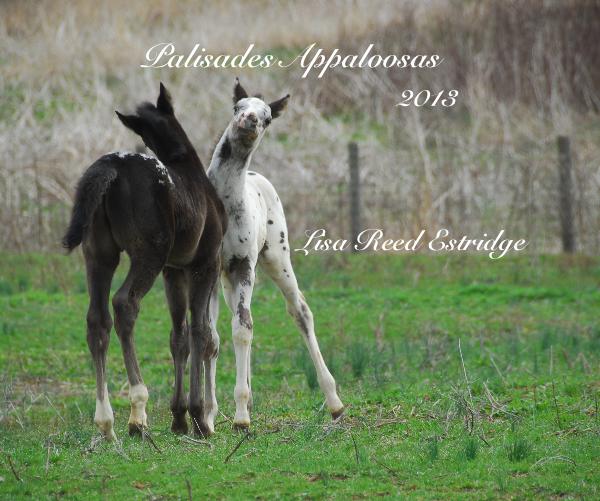 A photo book for sale at Blurb!
Appaloosa Weanlings, yearlings and Mares for sale

Jake 

Fashion Dreamer X Im Bud

Bay Dun colt born March 27th

Pearl totally enjoyed her first snow experience!!

Dunkin!

Bay Frosted and sprinkled APHC colt

Dreamer Intriguing X Nuggets Super Shado

This adorable colt has one blue eye and an adventurous spirit. He has a black mane and tail and is a bay based colt.I think you will see some darker points in time. Dunkin not bothered

by mud, water, trucks and farm equipement. I think he's showing brave trail horse potential!  His mom is a good quiet riding mare.   Dunkin should finish at l5 hands.

Asking $2,000 for Dunkin     Reserved for Lisa in CA!

PA Naturally Dun

"Tallie"  foaled March 7th, 2015

Skips Jazzy Blue (AQHA) X Dreamin Dun

Tallie is a tall hearty filly who will finish at about l5.3 hands .  She is friendly and outgoing and has a coat of orange velvet with a soft roan blanket, stockings and a blaze.   Tallie should be a great all around riding mare with plenty of color and size.  She should be able to carry a taller rider in either English or Western disciplines,  or a great family trail horse or broodmare.

Tallie is offered for sale at $2,000    Tallie is RESERVED for Milana!

PA Fashion Quest, "Jake"

Fashion Dreamer X Im Bud

Bay Dun blanketed APHC colt foaled March 27th

This big handsome colt has color, size, dun factor,  good strong bone and great breeding.

Jake will make a nice western, trail , family riding prospect.  He and his mother have matching zebra stripes on the legs and dorsal stripes since they are both bay duns.

He is the last (and best)  foal sired by Im Bud, thus a limited edition!  He should finish at l5.3 hands .

Jake is offered for sale at $2200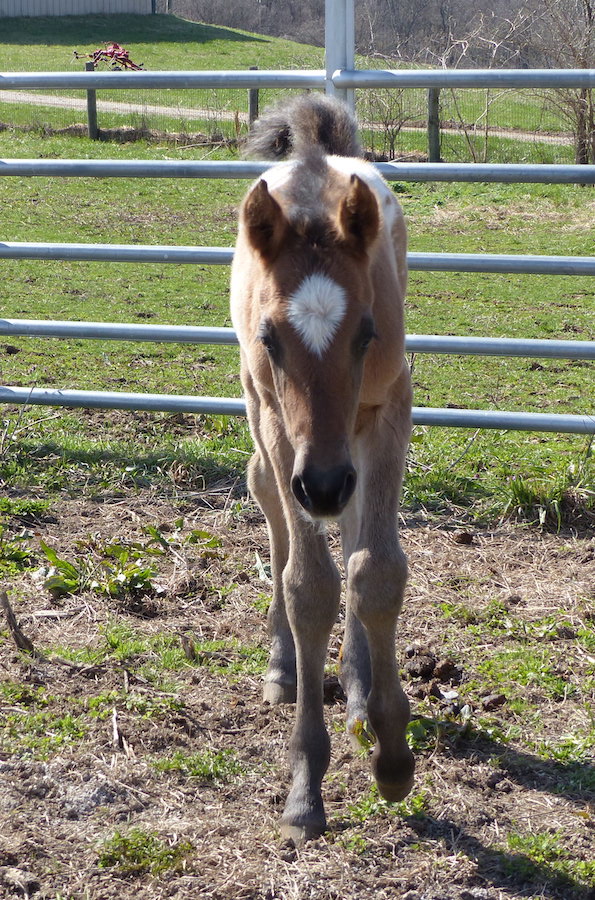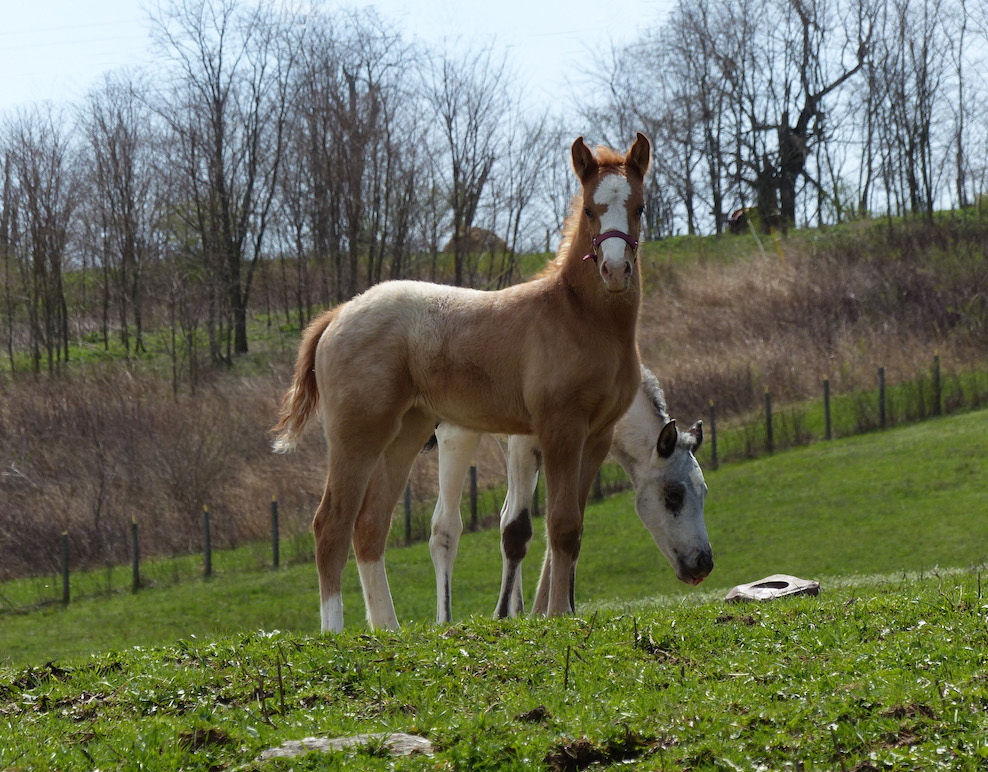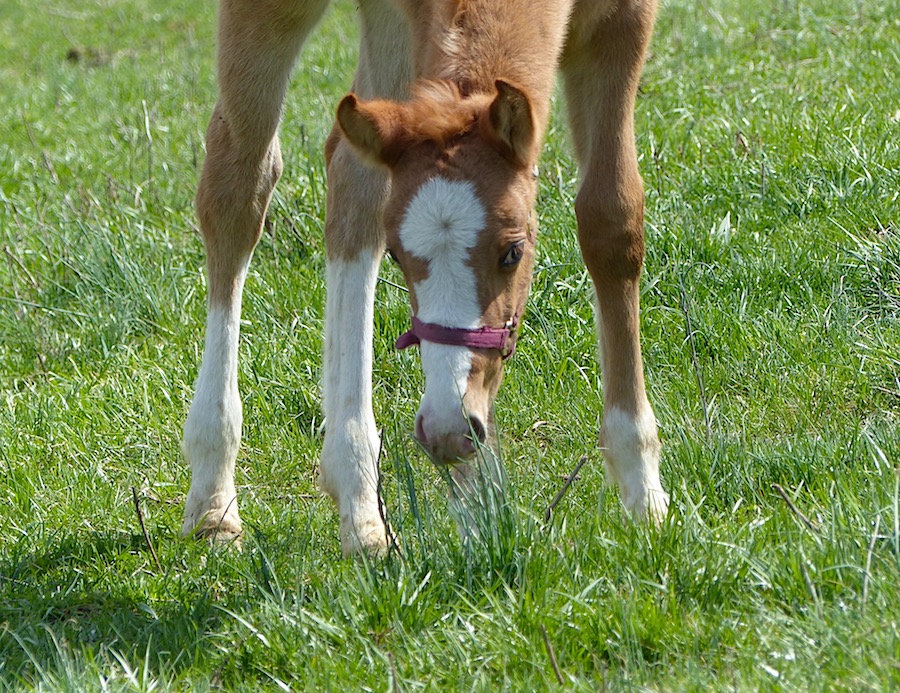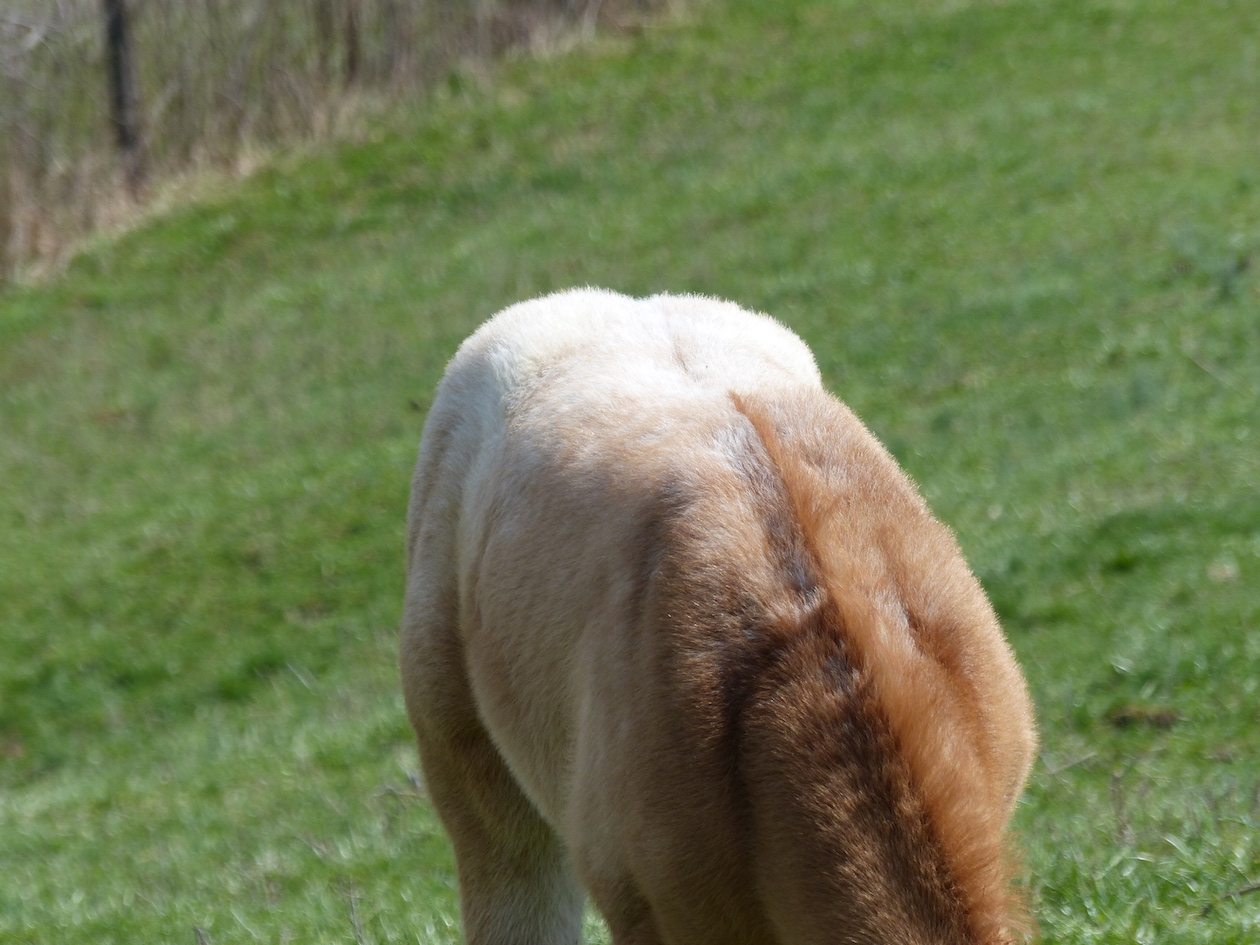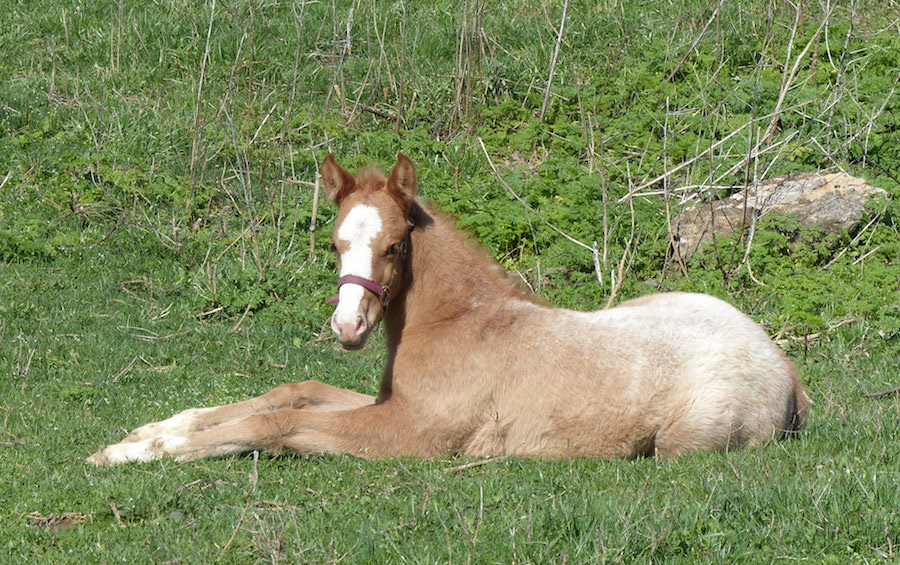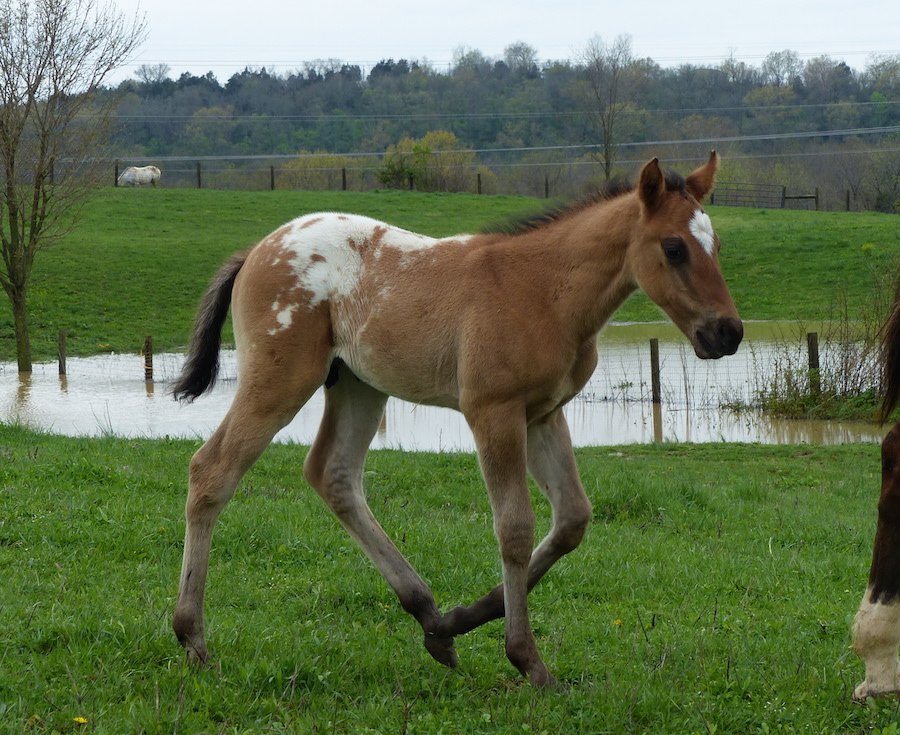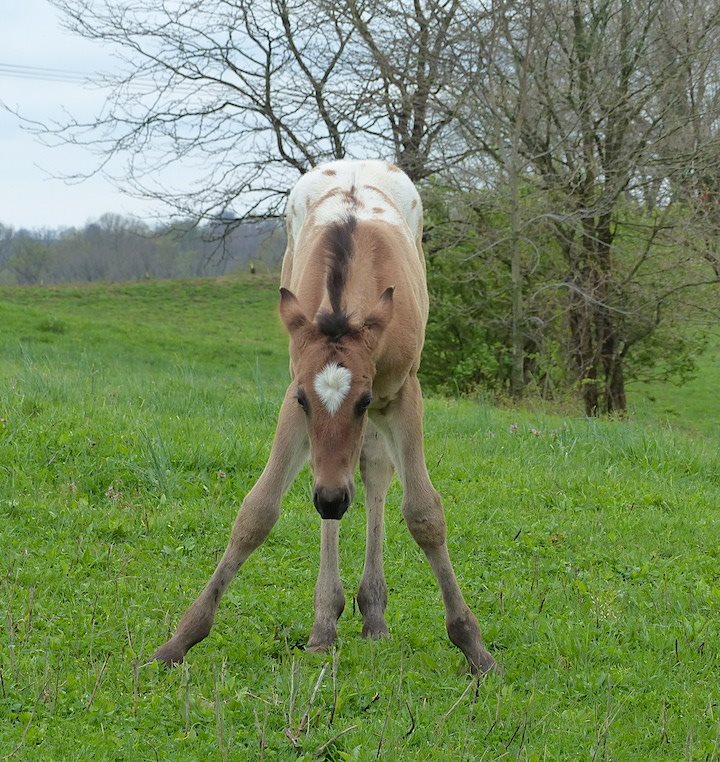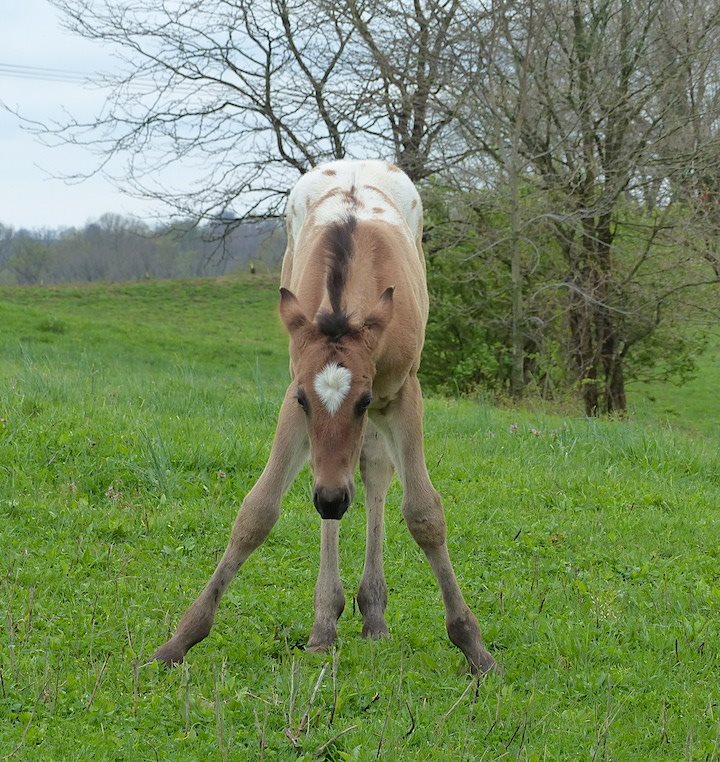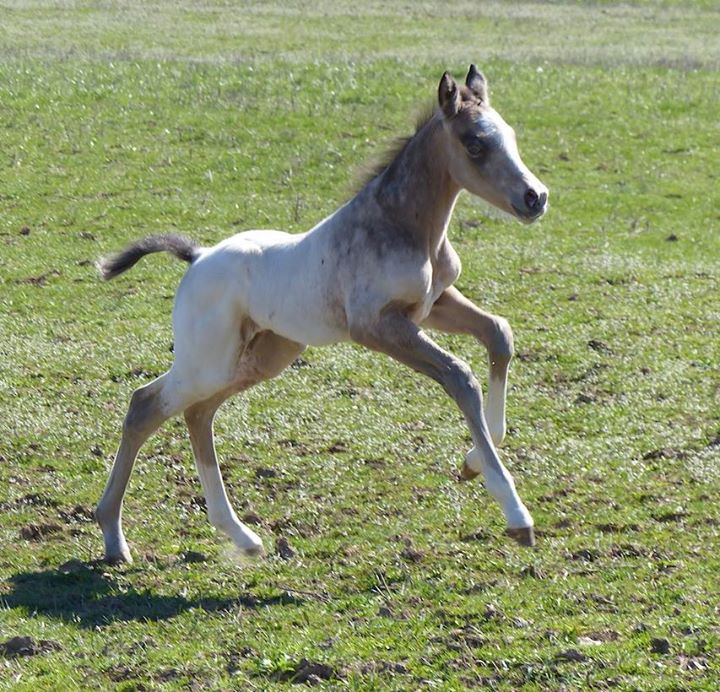 PA Desert Shado  , DUsty

Skipelletta X Nuggets Super Shado

Buckskin fewspot stud colt , homozygous for black and the color gene!

This lovely green eyed fellow has some very special genetics for making color. Pretty headed, big hipped  Dusty is friendly and playful.  Pics at two weeks old. He should be l5 hands at maturity.   EE n/CR Aa (hair testeed)

He is offered for sale at $2200.

Reserved for Melinda!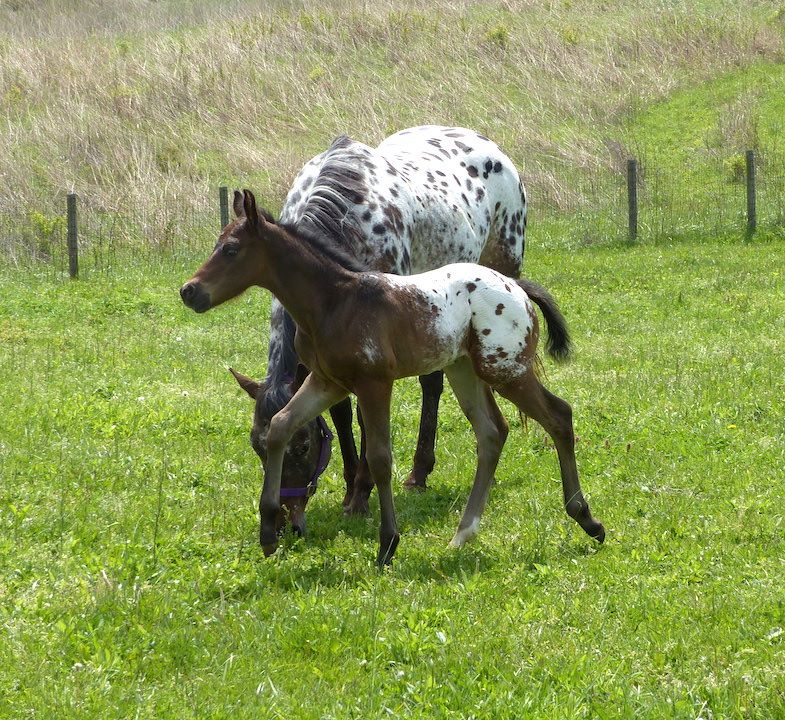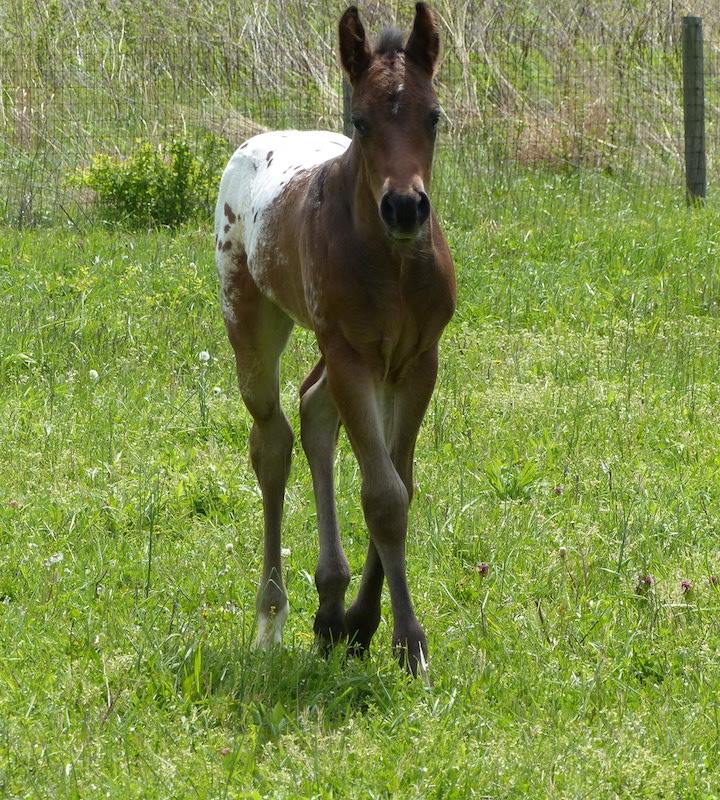 Dreamin On Earth, "Clay"

Clay arrived in the pasture in the afternoon on Earth day.  What a nice surprise at feeding time!  He is a dark bay blanketed colt, naturally stout and strong.  This cross between Junior and Mauzi is a great one and will be repeated for a fourth time this season.    Clay should finish at about l5.1 hands.  He is a curious and friendly guy and will make a nice pleasure/trail or show prospect. 

Clay is offered for sale at $2200        Reserved for Darlene!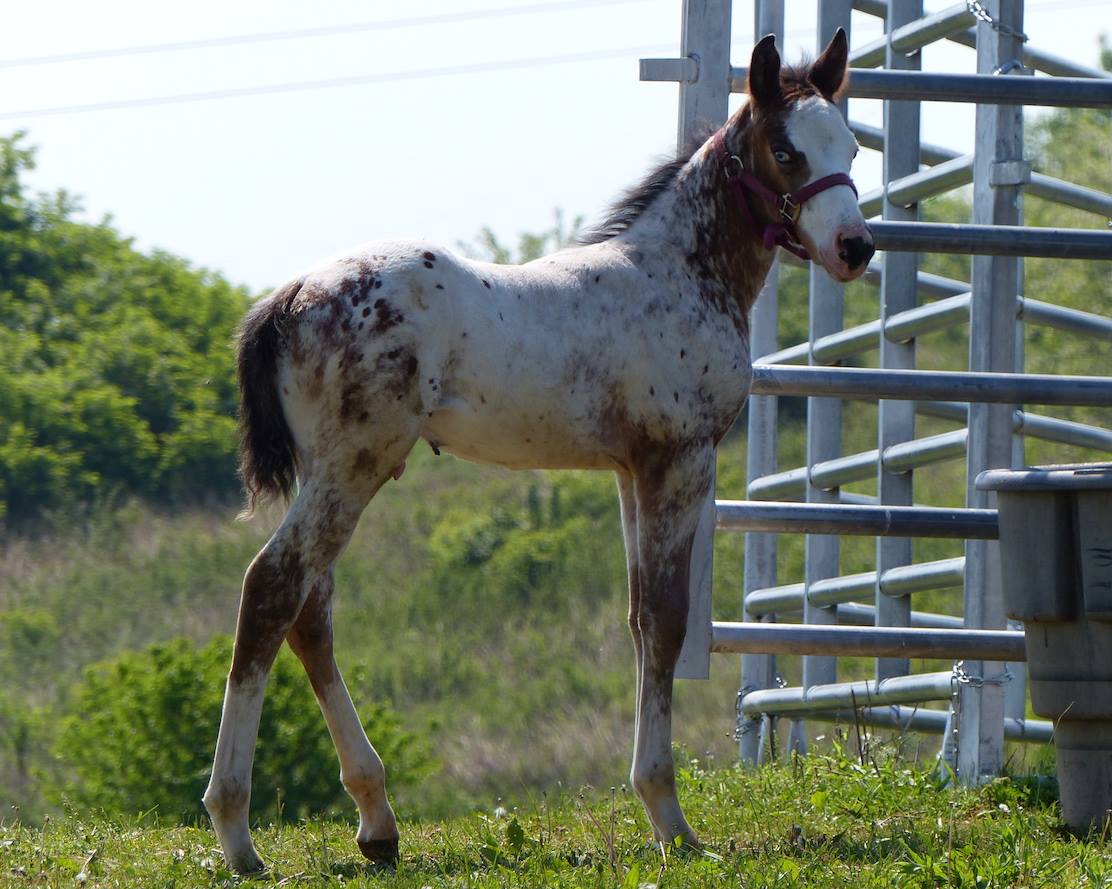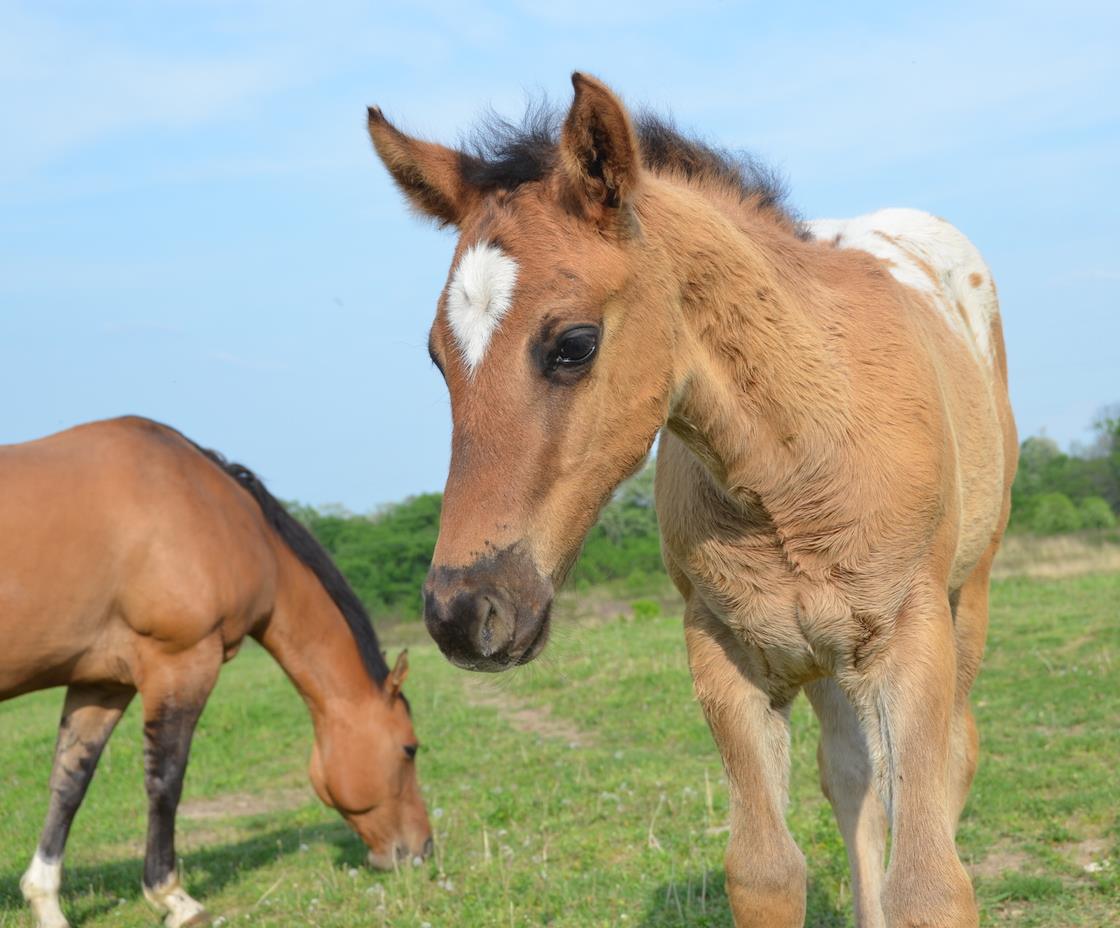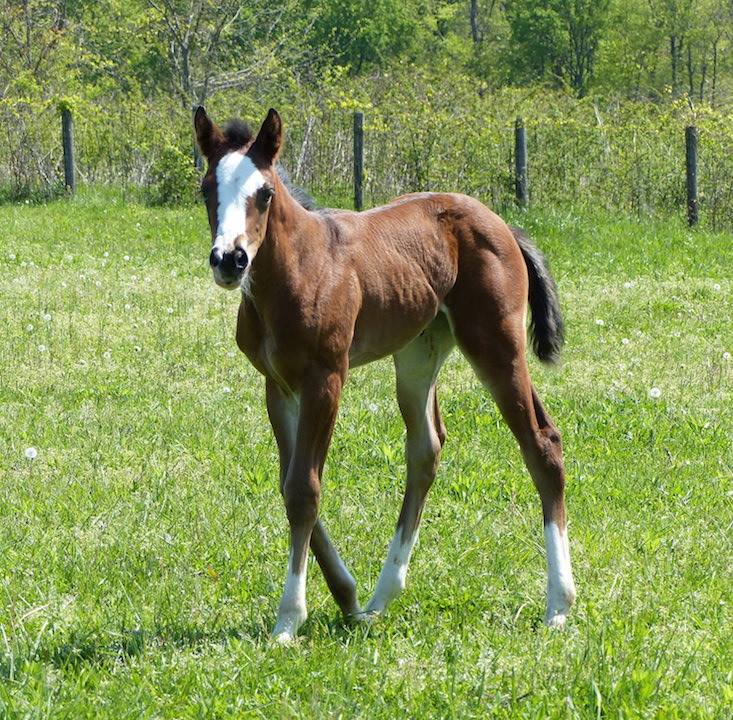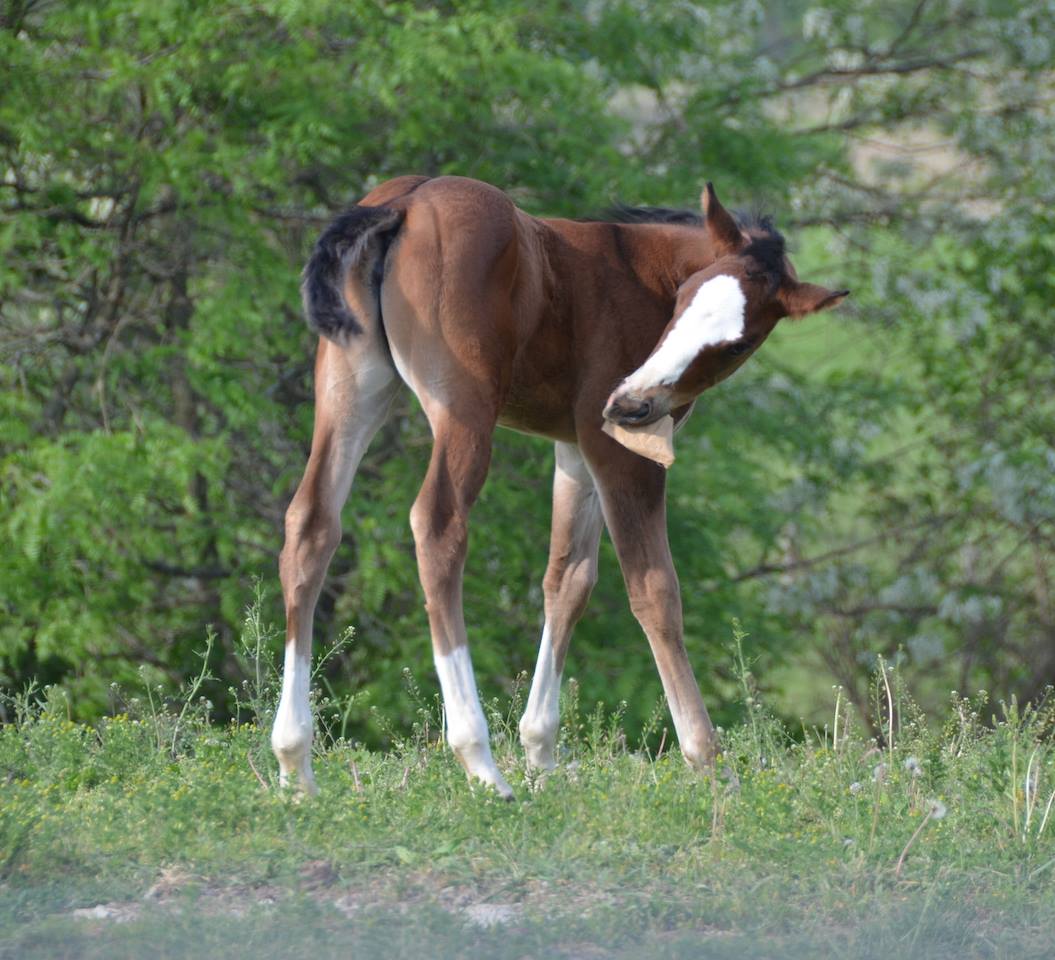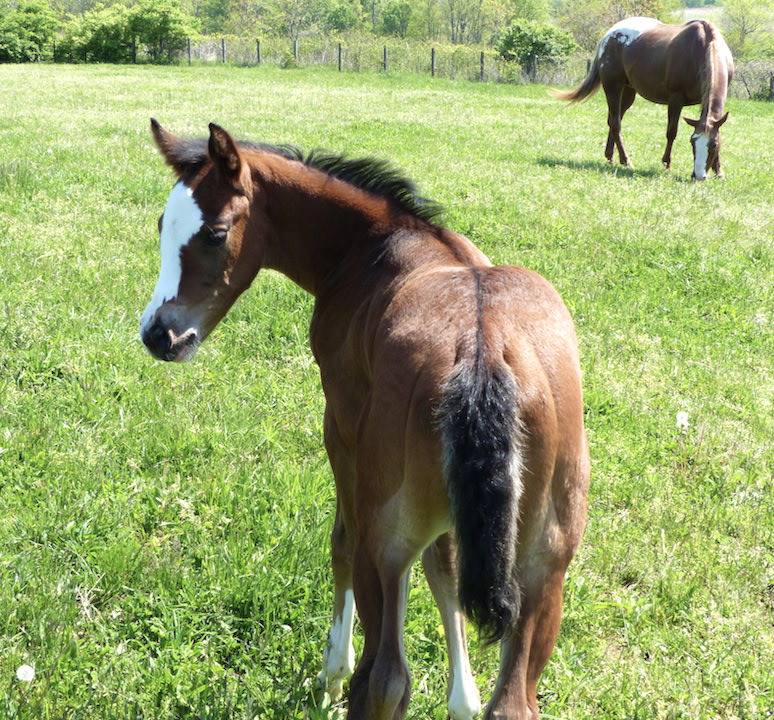 Shadocat,  "Kitty"

Rewardachic X Nuggets Super Shado       Bay NC appaloosa filly with chrome

This filly is a sweet heart, with lovely conformation, and beautiful movement.  Check out her video at l0 days old. She should finish at l4.3 hands and would make a nice family horse, 4H project, or broodmare for your fewspot stallion!   I will be testing Kitty for PATN1 (leopard pattern) to see if she is hiding the pattern from her sire.  This would add to her potential as a broodmare.

Asking $1600 for kitty!              Kitty is Reserved for Paul!